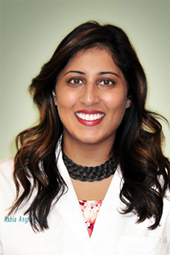 Rabia A. Cacco, M.D
Physician
Specialty: Family Medicine
Education

Saba University

Residency

Wayne State University Family Medicine

Board Certification

Family Medicine

Sees Children

12 years of age & older
Dr. Cacco is a graduate of the University of Michigan with a Bachelors degree in Anthropology. She graduated from medical school in 2009.
She grew up in Rochester, Michigan and is proud to have completed her residency at Crittenton Hospital, where she was a Critten-teen a few years back. Dr. Cacco is enthusiastic about the opportunity to serve the neighbors with whom she has shared her community most of her life. Rabia was married in September of 2013.
Dr. Cacco is board certified as a Family Medicine physician and sees patients from all age groups – adolescents through the elderly.